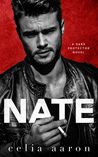 Nate
by
Celia Aaron
My rating:
5 of 5 stars
"This isn't about deserve, this is about need. I don't know what I deserve, but I know I need you ."
I've been curious about Nate since I met him in Dark Protector, and when I found out in the book blurb that Sabrina was going to be the heroine, I was really excited.
The story takes places 5 years after Nate rescued Sabrina. Being at the head of the Genoa empire seems to have changed him, he lost his playfulness and faces the responsabilities that come with his new status. Focused on his business, he never expected his little protegee to shake his life, to awake such feelings in him. When a broody, violent, merciless Nate succumbs to a sassy, bratty, feisty Sabrina (15 years younger than him), things get scorching hot!!! The chemistry between them is incredible, no matter how hard Nate fights it, they have been bound to each other from the moment Nate saved Sabrina.
"Our souls had met five years ago and whispered about each other ever since."
With a mob war as a background, this book is a true page turner. Once started I couldn't put it down. It's fast paced, alternating between romance and action scenes.
I absolutely loved the tone and the atmosphere, with totally badass characters you are going to fall for.
Sexy moments, sweet declarations, hilarious bantering, gunfires, and kidnapping brought a fireworks of emotions and kept me enthralled all along.
*ARC generously provided by the author in exchange for an honest review. Thank you ! *
View all my reviews
Genre: Contemporary Romance
Release Date: August 25, 2017
I rescued Sabrina from a mafia bloodbath when she was thirteen. Doing right by her became a priority for me, even while I was busy as the new head of the Philly syndicate. I sent her to the best boarding schools and kept her as far away from the life as possible. It worked perfectly. Until she turned 18. Until she came home. Until I realized that the timid girl was gone and in her place lived a smart mouth, a wicked imagination, and a body that demanded my attention. Who am I? I'm F*cked. Nice to meet you.
99c for a limited time
Free in Kindle Unlimited
Celia Aaron is a recovering attorney who loves romance and erotic fiction. Dark to light, angsty to funny, real to fantasy—if it's hot and strikes her fancy, she writes it. Thanks for reading.